Example recordings and related video's regarding the VU-NT&L Popup Studio. For more information, visit
these pages
.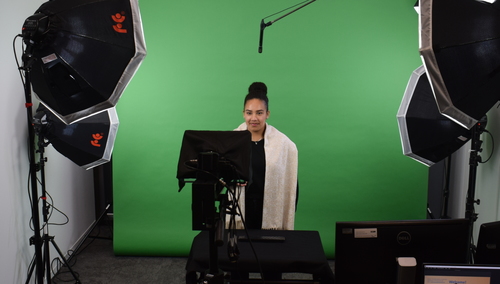 …Read more
Less…
Katinka van der Kooij's Learning Glass-presentatie

Ingmar Leijen discusses various models brand chracters

Aan de meeste video-thumbnails is niet zo goed af te leiden waar de video inhoudelijk over gaat. Wat als we nou eens een titelpagina verwerken in de video zelf? In de…

De teleprompter vergt enige aanleg, het helpt als je de tekst van tevoren een aantal malen geoefend hebt. Heb je geen natuurlijke aanleg of tijd om te oefenen dan doet…

Er zijn mensen die juist gaat stotteren van de strak getimede autocue, of vergeten met hun ogen te knipperen. Ze vertellen hun verhaal liever uit het hoofd, en soms gaat…

Ook Renske Vos koos voor iets anders dan het functionele maar ietwat alledaagse "powerpoint wit". Ze vond een fraaie foto in de VU Toolbox en door het…

In naar schatting 90% van de filmpjes die we opnemen bestaat de achtergrond uit witte powerpoint-slides. Dat is weliswaar erg functioneel, maar soms kiest de…

In dit filmpje wordt uitgelegd hoe je het bordspel Explore Your VUture opstart en wat de spelregels zijn.

Sophia de Jong recorded a series of Lightboard clips as a companion to a statistics course. During the recording of the last clip I recorded some scenery to demonstrate…
Search for ""