Example recordings and related video's regarding the VU-NT&L Popup Studio. For more information, visit
these pages
.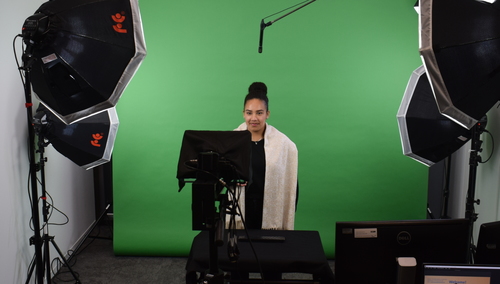 …Read more
Less…
Aan de meeste video-thumbnails is niet zo goed af te leiden waar de video inhoudelijk over gaat. Wat als we nou eens een titelpagina verwerken in de video zelf? In de…

De teleprompter vergt enige aanleg, het helpt als je de tekst van tevoren een aantal malen geoefend hebt. Heb je geen natuurlijke aanleg of tijd om te oefenen dan doet…

Er zijn mensen die juist gaat stotteren van de strak getimede autocue, of vergeten met hun ogen te knipperen. Ze vertellen hun verhaal liever uit het hoofd, en soms gaat…

In naar schatting 90% van de filmpjes die we opnemen bestaat de achtergrond uit witte powerpoint-slides. Dat is weliswaar erg functioneel, maar soms kiest de…

Sophia de Jong recorded a series of Lightboard clips as a companion to a statistics course. During the recording of the last clip I recorded some scenery to demonstrate…

Instead of the traditional 90 minute lecture format, I recorded three 30-minute lecture segments for an asynchronous B1 Developmental Psychopathology course.

Recording in Pop-Up studio. Courtesy https://metis-onderwijsadvies.nl/

Sophia de Jong combined a PowerPoint-style screencast with a Lightboard recording: "Last year I prerecorded videos for my statistics course. The videos are quite…
Search for ""